3.2. Buildings
One of the first thing you have to do when you enter our program is to fill up the basic information about each property.
STEP 1: Define the type of property
The software can support mixed-use properties that include both single residence homes as well as multi-unit properties.
When you create a building you have to define the type of property as either a Single Residence Home or a Multi-unit Building. Multi-unit Building can be of any size - duplex, triplex, 100-unit apartment, etc. There are no limits to the number of units per building.
Please note that multi-unit buildings are not limited to just structures with multiple units such as mutiplexes and apartment complexes, they can include mobile parks, shopping centers, student housing, etc. In these cases the property can be viewed as a Multi-unit Building.
To create a new building, go to the Building menu and then click NewNew on the right menu.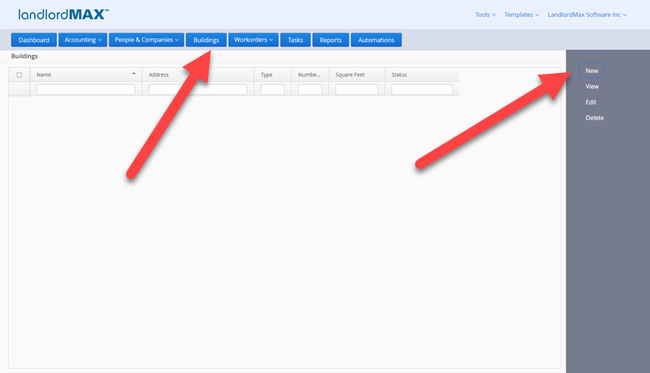 In the pop-up window, select the type of building as Single Residence Home or Multi-units Building.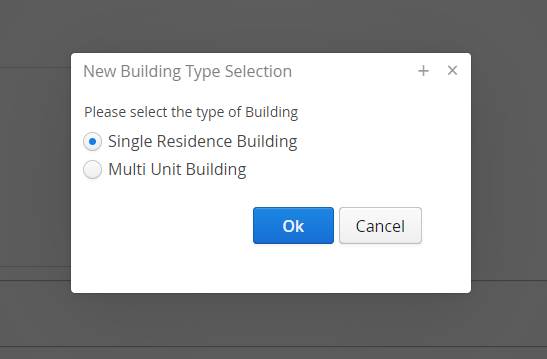 STEP 2: Fill the info about the property
Enter the address information for the property in the data entry screen and click on the Save button on the bottom of the screen.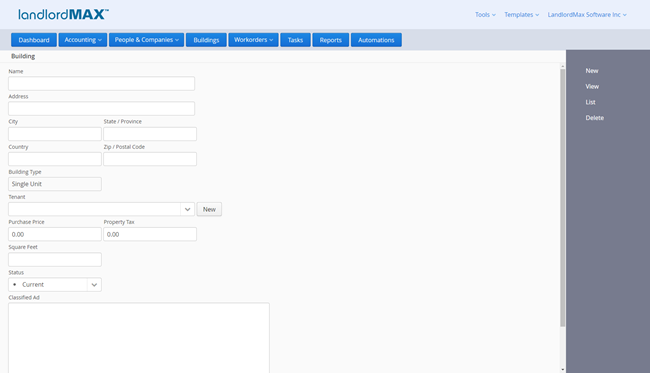 On the bottom portion of the view screen (versus the edit screen), there are multiple SubPanels in which information concerning the property can be recorded. Data in the Accounting SubPanel, along with information such as Insurances, Landlords, Documents, and so on.
Note that you can associate a landlord to a building if the landord has been previously created in the Landlords section of the software. Click on the tab Landlords and then click Add in the right side menu. Select the Landlord from the list in the pop-up window. You can enter many landlords if the property is shared or co-owned. The ownership data is completely cross-referenced with the Landlords data entry screen.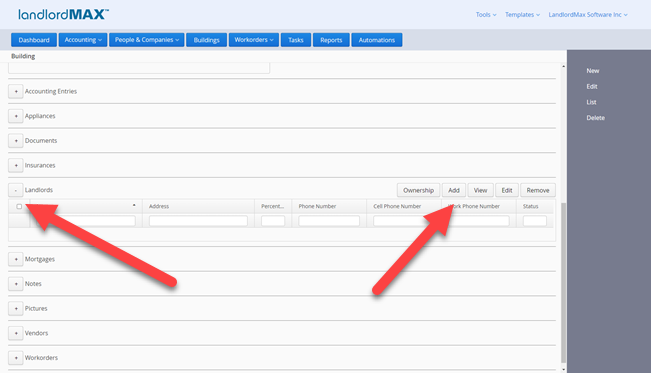 After the information is filled, click List in the right side menu to go back to the Building list view.
In the main screen, a list of all the current buildings ordered by name will be presented assuming you haven't limited the list by setting the filters.