9.1. Database Management - Database Backup and Restore
It is highly recommended that your database be backed up periodically as a precaution to an external source such as an external drive, a CD-ROM, a remote backup service, a USB key, and so on. If your computer system was to malfunction, fail, get infected, etc., your database could be restored to the last correct backup that was performed. Please note that it is your responsibility to create and manage your backups of the database and LandlordMax is not responsible for lost data.
*** IMPORTANT NOTICE: The Desktop Edition of LandlordMax (versus the Network Editions) is a standalone desktop application and therefore the application is only licensed to one user for one computer. You can transfer your license from one computer to another, such as when you purchase a new computer and so on, however you cannot run the software on two computers at the same time or back and forth such as running it on your laptop and your desktop. You are only allowed to transfer your license from one computer to another with a single Desktop Edition license. Running the software on two computers at the same time or back and forth requires either you purchase two Desktop Edition licenses or upgrade to the Soho Edition or higher.
Also please note that the software will NOT merge two separate databases, much as Microsoft Word won't merge two separate Word documents.
To move your data from one computer to another, what you need to do is "backup" the database on one computer and "restore" it on the other computer. 
SECTION 1: Backup your database
To back up the database, go to the Import/Export menu, click Data management at the top of the screen and then click Browse to the right of the Database Backup Area. In the pop up window, select the location where the database is to be stored and enter a name for the backed up database file. Once satisfied, click Save, this will automatically save the database to the specified location with the specified name. The database backup file will have a .ran extension to the filename.
** Please note that you cannot simply double click on the backed up .ran database file to use it because the software uses a pretty extensive embedded ACID compliant SQL database engine. Instead you will have to restore your database through the "Restore" functionality explained in the next section.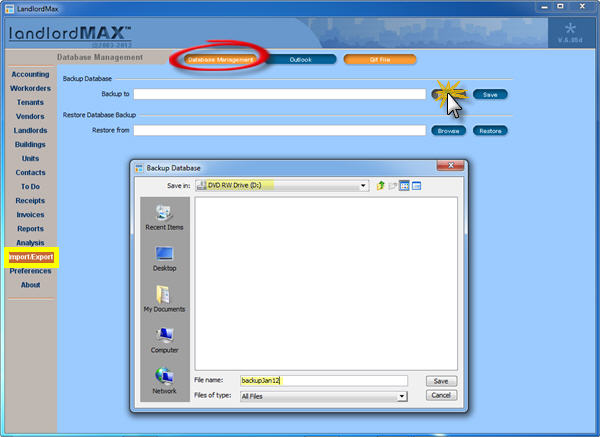 STEP 2: Restore your database
To restore the database to the state of the backed up .ran file, the exact same process is required using the Database Restore Area instead of the Database Backup Area and the Save button is replaced with a Restore button.