2.4. Activate Your License
NO License Key required. 
To access the Cloud Edition simply click here
** Instructions below are for the previous discontinued Editions.
Once you've downloaded and installed the software, you have to enter your new username and license code within LandlordMax.
SECTION 1: Trial License
If you are using the free 30-day trial, then you don't need to do anything special in terms of license. The software will initiate the trial on the first day you first run the software. From then on you will be able to fully use the software for 30 days, at which point it will then lock you out until you purchase a valid license. Please do note that if the trial expires before you purchase your license, your data is not lost. Everything stays within the software, you just simply cannot start the application without a valid license. Your data is intact.
SECTION 2: Retrieve your license information
Your license information (Username and License Code) were sent to you in an email within a few minutes of your purchase. If you do not recall having received an email, it is possible that it is wrongly filtered by your email client, your email service provider, etc. as spam and was either pushed into your junk/spam folder. In any case, you will need your license information to validate your purchase.
SECTION 3: Enter in your license information
If you were already working with a trial version of LandlordMax and the trial has expired you will see the following popup window stating that the trial has expired rather than the normal screen. This means that you need to purchase a license to continue using the software. Within this window enter in your Username AND License Code that you received after purchasing the software online on the website and click Save.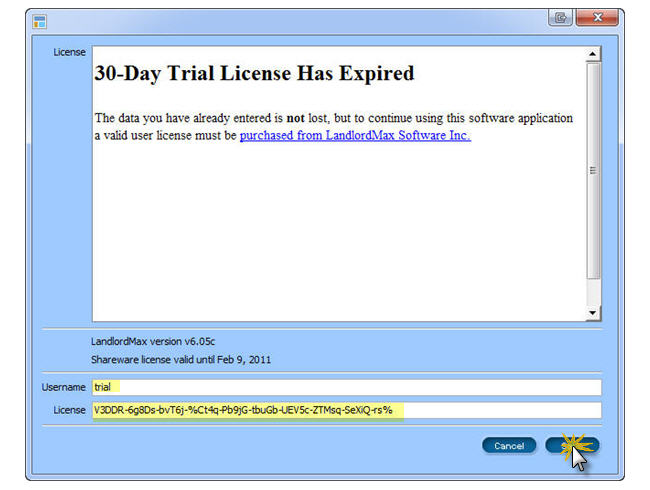 If you are new to LandlordMax or if your trial has not yet expired, to enter your license information click on the About Menu on the left side of the screen and then click on Version & License button in the top menu. Enter in your Username AND License Code within the appropriate fields at the bottom of the screen.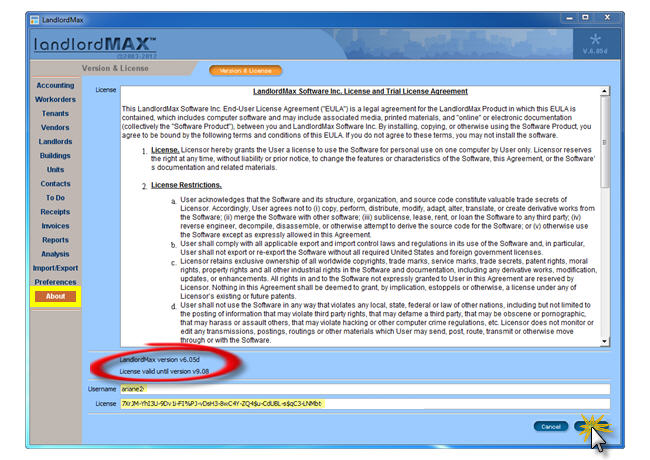 ** Please note that we strongly recommend that you copy and paste your license code into LandlordMax as some characters may not be readily apparent. For example the character "|" is neither the letter "l" nor the number "1". On some Mac computers you may need to use the Mac keyboard hotkeys for copying and pasting (Command-c and Command-v)
SECTION 4: Update your software
All minor upgrades released are included with your license. In addition to this the software will inform you when there is an update and whether or not it's free (included with your license) or whether it's a paid update.
To upgrade, you can just re-download the latest version directly from the website and run the installer as you initially did.
Please note that you can decide whether or not you want to upgrade your software. If you don't, you can just continue using the same version indefinitely at no additional costs. If you do wish to upgrade, you get a 50% discount on the going price.
That being said please note that we do strongly recommend you upgrade for security reasons to the latest version. In good consiciousness always strongly recommend upgrading to the latest version for security reasons. This does NOT mean that older versions of the software weren't secure, it just means that no more updates or fixes will be available for discontinued versions. For most software this isn't a big issue (for example a movie player software, a music player, etc.) but when it comes to managing properties you are storing very sensitive financial information related to your tenants, clients, and so on, so security is very important. The same as we're sure you'd want your mortgage broker (or any other vendor you work with) to store your sensitive information on updated software and systems. It may be more than you need but because you're dealing with sensitive financial data it is important to keep your software updated.
Similarly for security reasons we cannot offer copies of older installers for because of the sensitive nature of the data that's stored within the software. With each new version we also include a list of everything that's been fixed, and as such it is possible for someone to take advantage of that information on older/previous versions, as well as new security features that become available with time. As such we only provide the latest version on the website, again this is especially important considering the type of sensitive data stored within the software.
Lastly, if you haven't had a chance to see the list of the latest features of the software you can always find them at: http://www.landlordmax.com/support/index.php?pg=kb.page&id=180