1.2. Accounting
Now that you can keep track of who lives where, you want to keep track of the bills.
STEP 1: Create a new accounting entry
For revenues and expenses you can create two types of entries:
one-time accounting entry for a payment that you will have only once
scheduled accounting entry for any recurrent payment such as a rent that you want automate
In the Accounting menu, click New. Enter the appropriate information. Select the category which will help group together similar accounting entries for reporting purposes. Select the tenant or/and building associate with the payment.
If you want to schedule this entry, click Schedule at the top and fill the information in the pop-up window. You can also use the Scheduled Entries tab to create Scheduled Entries, but this is discussed in a later section of the user manual.
*Note that each time you create a lease, a scheduled entry is automatically created and is recurring at the frequency you specified in the lease.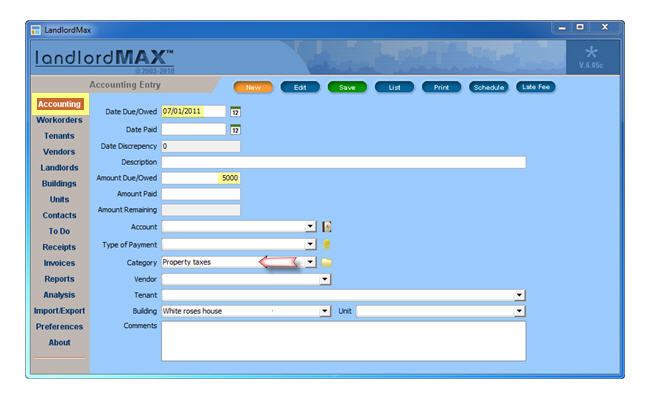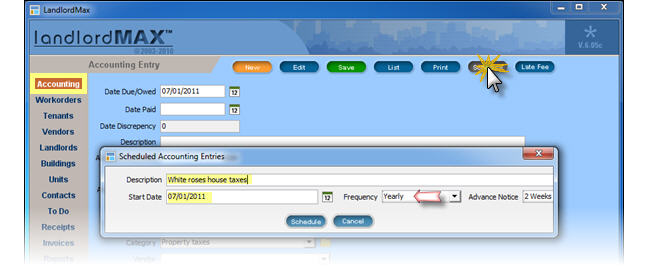 STEP 2: Accept the entry
Each time a Scheduled Entry is due or a Workorder is created, a Suggested Entry is then created for you to accept or deny on the Main Accounting Board.
In the Accounting menu, click on the tab Suggested Entries, select an entry and click Accept on the right side menu to enter the amount on the board. Once accepted the data immediately jumps to the upper portion of the screen.
If a payment is due but late, you can accept the entry as late by one click on Late button on the right side. The data will jump to the upper portion of the screen but the background status color will be red to indicate that the entry is late and the amount paid will be 0.00. Later once you will receive the payment select the entry and edit the information.
If an adjustment needs to be made, you can also first view and edit the entry before accepting it.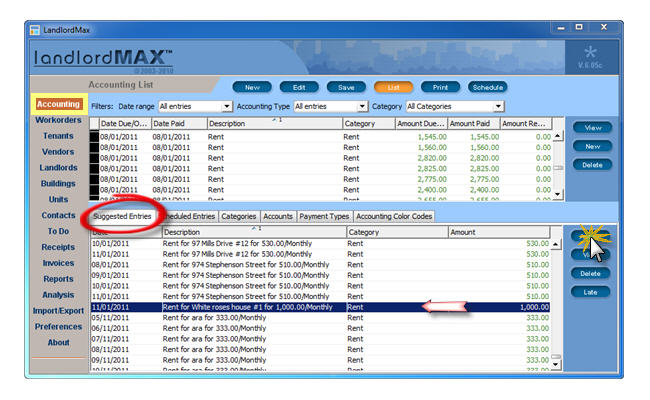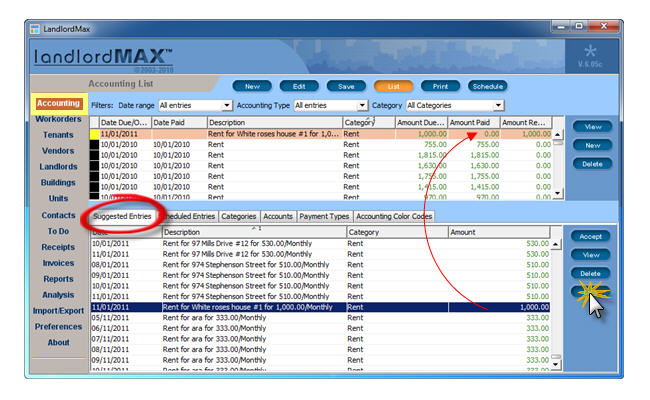 STEP 3: Filter the database
The accounting entry filters allows you to minimize the number of accounting entries you will see in the list, in order to better focus on the entries you are interested in. There are 3 filters you can use: date range, accounting type (all entries, expense vs income) and category (rent, late fee, repairs, mortgage...).
*It is very easy to forget that you have set the filters in a specific way. So, if you are looking for a specific accounting entry and it seems that it has disappeared, check your filters before you panic.
Another way to find your accounting entries faster is to look at the accounting background status color. This color will help you determine if a payment is past due (red), due in the future (green), or if it has been partially paid (yellow).